Race Report: USMS 10K Postal Championship
Another Friday, another long postal swim at the UIC Natatorium. This time, for 10K: 200 laps of a 50-meter pool.
I was joined by fellow distance freak Smelts and my favorite U-Chicago professor were also on deck, as lap counters - which I'm told on good authority is a similarly mind-numbing experience.
My goal? 2:17:52 - my open-water 10K time from Noblesville in July.
Some reasons I might succeed in beating that time:
The typical advantages of pool swims over open-water - flipturns, precise navigation, negligible "conditions"
More hospitable water temp - 79F rather than 84-85 in Morse Reservoir
Some reasons I might not succeed:
I did a half-taper for Noblesville (1 week), but only 2 days rest for this
I wore a Blueseventy Nero for Noblesville, but only a jammer for this
The adrenaline factor in races vs. solo swims
Here's what happened: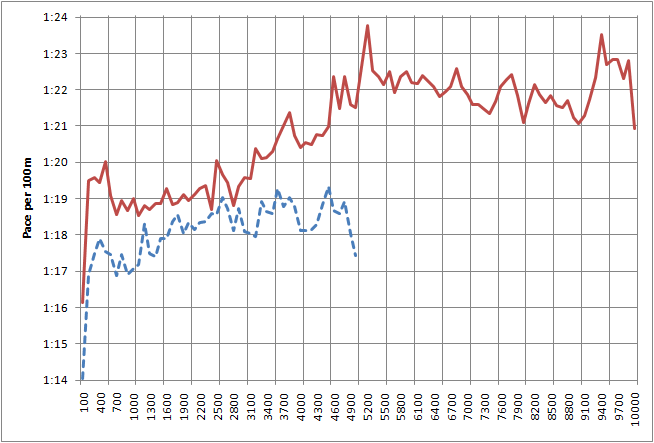 NOTES:
(1) 5K Postal splits (dotted blue line) superimposed for comparison.
(2) Drink breaks at 2, 3.5, 5, 6.5, and 8K are "adjusted out." See 5K postal report for a description of the methodology.
Remarkably, these splits correspond fairly well with my subjective experience:
As the chart shows, I found a comfortable, steady pace of 1:19's through the first 3,000m or so.
Then, a gradual deterioration (up to 1:22's) into my drink break at 5,000m.
At the halfway point, I took extra time (23 seconds) for a nice, long swig of a recovery drink. This actually seemed to stanch the bleeding! Though I was on a trajectory for 1:23's+, within 10 minutes of the break I had brought it back down to 1:21's - which I maintained all the way through 9K.
The chart shows, as well, the wheels coming off during the last 1,000m. But not too badly - I kept it under 1:23, with just the one exception at 9,400m.
In the end: 2:16:15. Pace per 100m of 1:21.8. A few more stats:
400m splits:
5:10.0, 5:16.6, 5:15.0, 5:15.7, 5:15.8
5:16.5, 5:18.0, 5:18.8, 5:21.2, 5:23.5
5:22.6, 5:27.2, 5:29.5, 5:29.5, 5:29.0
5:28.9, 5:28.4, 5:27.1, 5:26.6, 5:27.6
5:27.3, 5:26.6, 5:25.3, 5:31.4, 5:28.9
1000m splits:
13:09, 13:09, 13:13, 13:25, 13:33
13:45, 13:41, 13:37, 13:36, 13:43
5K splits - breaks included (no adjustment):
1:06:55 (1:20.3 pace)
1:09:21 (1:23.2 pace)
Nutrition & Hydration:
(HEED = "high-energy electrolyte drink" - e.g., Gatorade)
(recovery drink = includes protein/amino acids - e.g., chocolate milk, GU Brew)
pre-swim: HEED+2 gels
2K: HEED (12.5 seconds)
3.5K: HEED+gel (14.0 seconds)
5K: recovery drink (23.2 seconds)
6.5K: HEED+gel (17.2 seconds)
8K: recovery drink (17.1 seconds)
total break time: 1 minute, 24 seconds
total volume of liquids consumed during swim: ~80 oz.
And speaking of recovery: one week 'til Big Shoulders! Onward!