Nyad Agonistes: The anatomy of a social media campaign
What follows is my attempt at a real-time narrative of Diana Nyad Cuba-Florida Swim Controversy, from the start of the swim the morning of August 31 through the evening of September 8, when a New York Times article by Suzanne Sataline finally forced Diana Nyad and her team to speak to the skepticism among her fellow marathon swimmers about the details of her achievement.
I assemble developments from a variety of sources – the Marathon Swimmers Forum, Facebook, national media outlets, and my personal contacts during this time – into a coherent narrative of a remarkable social media campaign.
---
August 31, 2013. 8:59am, Eastern Daylight Time (all subsequent times also in EDT). According to reports from her crew, Diana Nyad enters the water just west of Havana, Cuba, and begins swimming.
September 1, 8:00pm. Diana Nyad is filmed swimming at Hour 33, at which point, according to her GPS data, she was progressing toward her destination at more than 5 miles per hour (44.7 seconds per 100m).
[Video unavailable due to Nyad's team deleting it from her YouTube account.]
September 1, 11:00pm. 38 hours into the swim, as reported by Diana's crew, "winds suddenly rose to 23 knots" and the team "went into squall protocol."
September 1, 11:38pm. American TV news network CNN, which has financially supported other Nyad swim attempts, reports that Diana "has broken swimmer Penny Palfrey's 2012 distance record in the Cuba to Florida swim."
September 2, 1:27am. "Flotilla back in formation" and "free of the storm," according to crew reports. During the storm, Diana is still progressing at more than 4mph according to her GPS data.
Experienced marathon swimmers who actually know what swimming in 23-knot winds (Beaufort Force VI) is like are… curious.
September 2, 7:15am. Diana's crew reports: "…the handlers were not stopping her to eat and drink overnight in the hopes that swimming would keep her warm." 7:30am. Diana's crew reports: "…the whistle blew for Diana's first feeding stop since before midnight."
Experienced marathon swimmers wonder: "No food or drink since midnight? Seven and a half hours without calories or liquids?"
September 2, 12:33pm. As Diana nears Key West, the skeptical comments begin. Triple Crown channel swimmer and 8 Bridges co-founder David Barra writes on Facebook:
….pretty sure the Gulf Stream doesn't work like that. #smokeandmirrors
The comments on Barra's Facebook thread anticipate two important directions of the subsequent controversy:
The strong west-to-east Gulf Stream currents – as shown on both predictive models and live data – casting doubt on Diana's strong south-to-north progress across the Strait. Tampa Bay Marathon Swim race director Ron Collins' comments are especially helpful.
The lack of qualified, independent observers on Diana's swim. Triple Crown channel swimmer and professional FINA Grand Prix swimmer Mallory Mead says:
Ultimately the thing I really can't get over, is why she didn't have a truly independent observer. Like someone the open water swimming community knows and respects. Diana knows the community doesn't trust her (and that is nothing new!) so if she cared, she would have made sure to have someone on the boat to verify.

But at the very least she doesn't give a rats ass about the open water swimming community, because she KNOWS it doesn't matter what we think, the media will print anything she says as truth.
September 2, 1:26pm. Marathon Swimmers Forum member "bruck" posts a prophetic comment:
IF Diana Nyad swam from Cuba to Florida unassisted, with the jelly costume and face mask being the only deviation from traditional channel rules, then it should be celebrated as one of the world's greatest endurance feats.

I don't think a little skepticism about the current swim is unfair or mean, given the dubious circumstances and reporting of her previous swims.

Assuming she finishes, I hope she and her team will make completely clear what, exactly, has been accomplished. Did she swim the whole way? Did she ever rest on the boat? Was she ever towed by the boat? How does she account for the unusually fast progress she made, seemingly far in excess of her personal swim speed?

Then the marathon swimming community can evaluate the claims and the evidence, and decide whether we believe her.
September 2, 1:53pm. Diana Nyad swims ashore in Key West, 53 hours after departing Havana. To experienced marathon swimmers who have undertaken 24-hour swims, much less 53-hour swims, she appears surprisingly sprightly for anyone of any age after such an effort. Penny Palfrey, a younger and much stronger swimmer, was confined to a hospital for a day after her 80-mile, 41-hour attempt last year.
On the beach, Diana amazingly has the presence and clarity of mind to deliver an inspirational sound byte for the cameras:
I have three messages: One is we should never ever give up. Two is you are never too old to chase your dreams. And three is it looks like a solitary sport but it takes a team.
[Video unavailable due to Nyad's team deleting it from her YouTube account.]
September 2, evening. The story of Diana's swim is global news. Media outlets (e.g., New York Times, CNN) report that Diana swam 53 hours nonstop between Havana and Key West. These reports, evidently, were based purely on the word of Diana and her team, without fact-checking.
On the Marathon Swimmers Forum, the discussion has already zeroed in on the two most suspicious interesting aspects of the swim:
Diana's strong south-to-north progress across strong west-to-east currents (according to the live publicly-available oceanography data).
The 7.5-hour stretch on the second night of the swim, during which Diana's crew reported she went without feeding or drinking.
September 3, 9:04am. In an admittedly purposeful effort to stir up more critical analysis of Diana's swim, I ask on Facebook:
Did any of the journalists covering Diana Nyad ask her directly if she swam the whole way, under her own power? Just askin'.
It becomes the most engaged post in the history of my personal Facebook account. Most are supportive. Catalina solo record-holder Grace van der Byl says:
Thanks for asking what many have been thinking….
Irish channel swimmer Colm Breathnach cites the famous Sagan aphorism:
Extraordinary claims require extraordinary evidence.
Others seem to take it quite personally. Chicago channel swimmer Nial Funchion declares:
Who gives a fuck about 'your sport' your 'time', 'rules', there is integrity in putting the soul out there for the viewing. When that is done consider it a gift There will always be critics, they suck And hide and throw daggers through the hearts of great spirits. Man she gave us he world as human beings should live it. I've been doing marathon swimming w/o the bs rules for 22 years w integrity…reaching, building, mending. I don't need rules for that.
Another reader responds to Nial:
I have a hard time understanding why a human being would willingly shield himself from attainable knowledge about that which he "believes." Isn't curiosity a natural impulse of the reasoning mind? And why not believe in things that have been, to the best of our rational ability, verified? It takes ten minutes to read the Nyad discussion in the forum and to enlarge one's knowledge about her feat. The idea that Nyad's biggest fans would knowingly avoid such an experience blows my mind.
September 3, 1:02pm. Over on the Marathon Swimmers Forum, discussion had been building to a crescendo throughout the swim, in two separate threads: Diana Nyad's epic swim (primarily cheerleading-type comments) and Here we go again… (primarily critical comments). Once the swim ended, I merged a few comments from each into a new thread focusing on the post-swim analysis: 110 miles, 53 hours: Questions for Diana Nyad. This thread would soon become the most read, most commented thread in Forum history, and the subject of national news.
Evening of Sept 4 – Morning of Sept 5. The Forum discussion begins to focus on the technical details of Diana's speed across the Strait. How did she seemingly swim faster across a strong cross-current than Trent Grimsey swam across the English Channel? Andrew Malinak does some Google Earth trigonometry, and I attempt to derive "speed segments" from the postings on her blog.
September 4, 7pm. Suzanne Sataline, a freelance journalist and CIBBOWS swimmer, leaves me a voicemail. I return her call later that evening. She interviews me for a story she is writing about the marathon swimming community's skepticism of Diana Nyad's swim. The story is slated to appear on National Geographic Online.
September 4, 8:10pm. As the controversy on the Forum grows, Steven Munatones CC's me on an email to Forrest Nelson, asking if he would like to "review the data and documentation that Diana's team gave to me." Steve does not specify the nature of the data that Team Nyad has provided to him, but I reply that I would certainly be interested in reviewing it.
Now almost five weeks later, it is still not clear what came of this offer.
September 5, early AM. On the Forum, the curious story of Walter Poenisch is mentioned for the first time.
We also hear, for the first time, from a member of Diana's Xtreme Dream Team. Her kayak team captain, Don "Woodkayaker" McCumber, says he was on the water with Diana for "approximately 1/3 of the swim," and claims "she did NOT do ANYTHING to compromise her record." McCumber notes that Diana was "observed around the clock by two independent observers from the Open Water Swimming Association – Roger McVeigh, and Janet Hinkle."
For the record, there is no such organization as the "Open Water Swimming Association."
Forum members are excited to hear from someone who actually witnessed the swim in person, and post several reasonable questions for Mr. McCumber.
Soon thereafter, Xtreme Dream Kayak Team Captain Don "Woodkayaker" McCumber loses his temper and leaves the Forum in a righteous fury:
Why must so many people in this group want to pick apart every little thing? Take a look at yourselves… you are an embarrassment. Accept the FACT that she did this swim. Get a LIFE.
Xtreme Dream Kayak Team Captain Don "Woodkayaker" McCumber also makes the unintentionally revealing suggestion: "Maybe your stodgy little rule book needs to be edited."
September 5, mid-morning. Suzanne Sataline's piece for National Geographic, the first mention of the controversy in the national media, is published online.
Swimmers Question Diana Nyad's Cuba-to-Florida Feat: Some demand more details about the record-setting open-water marathon swim (NationalGeographic.com)
September 5, 6:12pm. Marathon swimming legend Penny Palfrey, whose 2012 attempt was the closest to swimming the Florida Straits unassisted, and whose open-ocean distance record Diana Nyad is claiming to have bested, comments to the Forum:
If an athlete claims to have broken the record of another athlete, surely both events should have been conducted under the same set of rules.
Penny, who used a stinger suit on her 2012 swim, also pointedly mentions she put on and took off the stinger suit by herself, without help from crew.
September 6, mid-morning. Forum member and engineer Andrew Malinak posts the data-analysis-heard-'round-the-world.
September 6, 2:45pm. Outside Magazine, which promoted Diana Nyad as one of their 2013 "Adventurers of the Year," re-reports Sataline's _National Geographic _piece:
Nyad's Cuba-Florida Swim Under Attack: Team has yet to release data (OutsideOnline.com)
September 6, 3pm. Diana Nyad makes her first public comment about the controversy, on my personal Facebook page. Her claim that she "never of course touched a boat or another person" is notable, given her later admission that actually she did touch other people during the swim, quite frequently.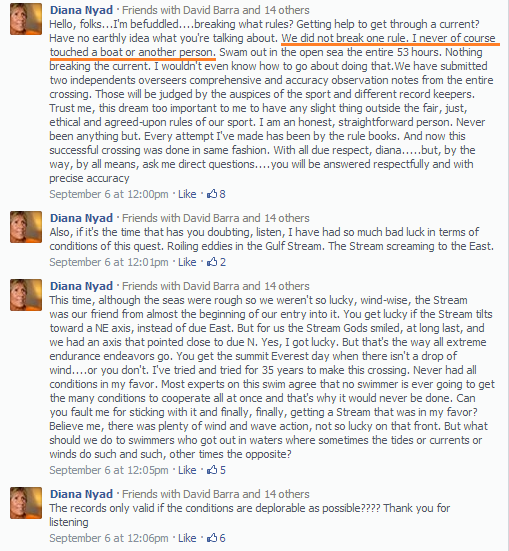 Forum member and channel swimmer Owen O'Keefe later notes:
She (or whoever was writing on her behalf) is a true master of ambiguity. I'm not an expert on English grammar, but I'm pretty sure that the statement "Those will be judged by the auspices of the sport and different record keepers" does not make one ounce of sense.
September 6, mid-afternoon. Marathonswimmers.org is nearly inaccessible due to slow server response time. I assume we have reached bandwidth limits due to increased visitor traffic, but after consulting with my hosting company's tech support, it becomes clear that we've been the victim of a denial-of-service (DOS) attack. I work with the hosting company to implement enhanced security measures to protect against future attacks.
September 6, 4:42pm. Snarky sports-news website Deadspin picks up the story.
Was Diana Nyad's Cuba-To-Florida Swim Legit? Haters Want To Know. (Deadspin.com)
Deadspin, which originally broke the Manti T'eo dead-girlfriend-hoax story, is widely read and often foreshadows breaking national news.
September 6, 5:30pm. I speak again with Suzanne Sataline, who is now working on a follow-up story for the New York Times.
September 6, late evening. I re-format Andrew's chart with more readily interpretable axes (km per hour instead of km per 6.75 minutes; elapsed hours instead of number of 6.75-minute intervals):
September 7, 6:49pm. Chris Moschini, the man behind the DianaNyad.com website, posts the data from Diana's SPOT GPS trackers, including (importantly) the timestamps associated with each set of coordinates.
September 8, 2:34pm. As the New York Times nears publication of Suzanne Sataline's story, the Associated Press goes live with a story quoting Andrew Malinak and an oceanographer named Mitch Roffer, who says it's possible Nyad caught a rare south-to-north eddy of the Gulf Stream that would explain her quick progress.
Nyad's Team Responds to Skeptics Doubting Her Swim (bigstory.ap.org)
September 8, 5:58pm. Forum member John Royer re-does Andrew Malinak's analysis using the timestamped data provided by Chris Moschini. "The main features of the plot are pretty much identical."
September 8, 8:34pm. Professional journalist and open water swimmer "rosemarymint" posts a comment to the Forum that elegantly summarizes the dilemmas confronting any journalist covering this emerging story:
I was not following the excruciating detail of the swim as it was happening online, nor do I have a TV (or cable.) I do know that CNN had a huge amount of involvement in the swim, even offering their satellite link for the data to the website (per the post by Diana's web team.) Did CNN have a reporter (staff or freelancer) on any of the boats with the flotilla? This could become a credibility issue for them if they did.

Second: does anyone know any Florida Strait current experts that were NOT involved with the swim? We have now seen the brief visual analysis of the GPS/timestamp info, but there still is a big missing piece. Is there proof from an independent scientific source (and is not commercial in nature) that the currents could have moved the way Diana's camp says they did and could explain the swim speeds? And could they have moved that way during those exact moments?

Have to admit, I'm more than a little surprised by the pervasive lack of skepticism among the media. Yes, we all love a good heart-warming story where a human being achieves something absolutely extraordinary, but the initial data do not pass the smell test. I can't have any conclusions yet because there still are not enough data points to fully answer questions, but my flags are more than waving in the air. The fact that Diana's swimming peers have such intense skepticism should be enough for a lot of people, but apparently not.
September 8, 10:00pm. Suzanne Sataline's article for the _New York Times _goes live.
Celebration Gives Way to Questions and Doubt After a Record Swim (nytimes.com)
September 8, 11:57pm. I and several others receive an email from Steven Munatones, inviting us to hear from Diana Nyad and her team on a Skype conference call scheduled for the evening of September 10.