Swim Report: MBSA Pier-to-Pier (Capitola to Santa Cruz)
It was approaching three years (!) since my last official marathon swim. At what point does one become a "former" marathon swimmer? In those three years I had shifted gradually, almost inperceptibly, from swimming most days to not swimming most days. As one does in the absence of goals.
My friend Robin nudged me to register for the Monterey Bay Swimming Association's Pier to Pier 10K swim. Would I put up or shut up? With the commitment made and the fees paid, I managed to string together a couple weeks of consistent swimming - enough to regain some rudimentary feel for the water, but little meaningful fitness. Enough to wing my way through a 10K.
The swim from Capitola Wharf to Santa Cruz Wharf - 10K with a dogleg around the "SC3" buoy south of Capitola - has a storied history going back 30+ years. The P2P is one of three major old-school long-distance ocean swims in California, along with the Semana Nautica 6-mile in Santa Barbara and the now-defunct Seal Beach-Huntington 10-mile Roughwater. Long organized as a USMS race by Coach Joel Wilson of Santa Cruz Masters, the swim was adopted by MBSA (where Joel is a board member) in 2016.
We gathered early Saturday, June 30 at the finish - Cowell's Beach next to the Santa Cruz Wharf. After signing in and linking up with our paddlers, we boarded a bus (chartered by MBSA) to ferry us to the start in Capitola. Under a brightening sky Scott Tapley (MBSA president) gave the briefing.
In some ways it looked like a South End Rowing Club swim - ~90% of the swimmers, paddlers, and organizers were SERC members, many with the distinctive red parka. But unlike a SERC swim, this was an official event with actual rules (no wetsuits) and results.
After loading and launching the kayaks, we gathered on the east side of Capitola Wharf to wait for the start. Scott set us off a few minutes before 9am. 16 of us started, after four no-shows. Buoyed by sunny skies and flat water, we stroked our way toward the end of the pier where our paddlers idled. Water temp comfortable - high 50s.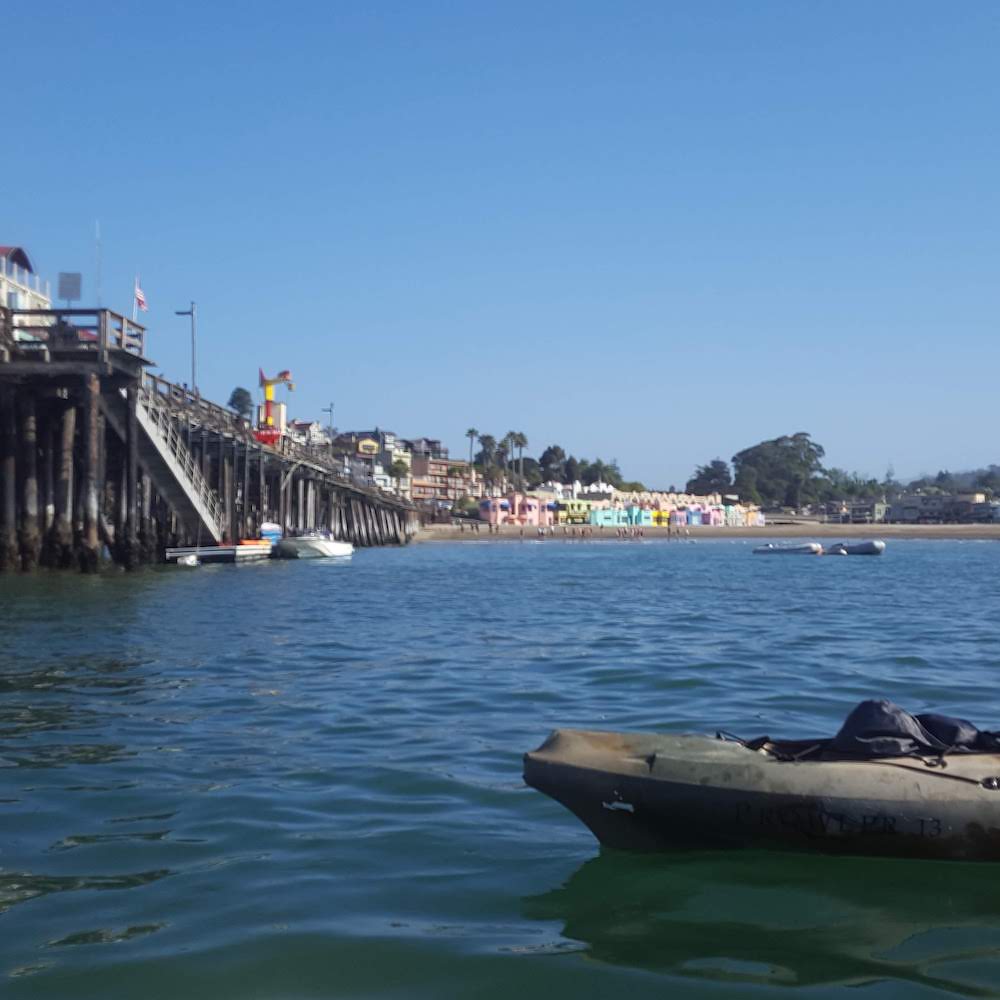 Capitola Beach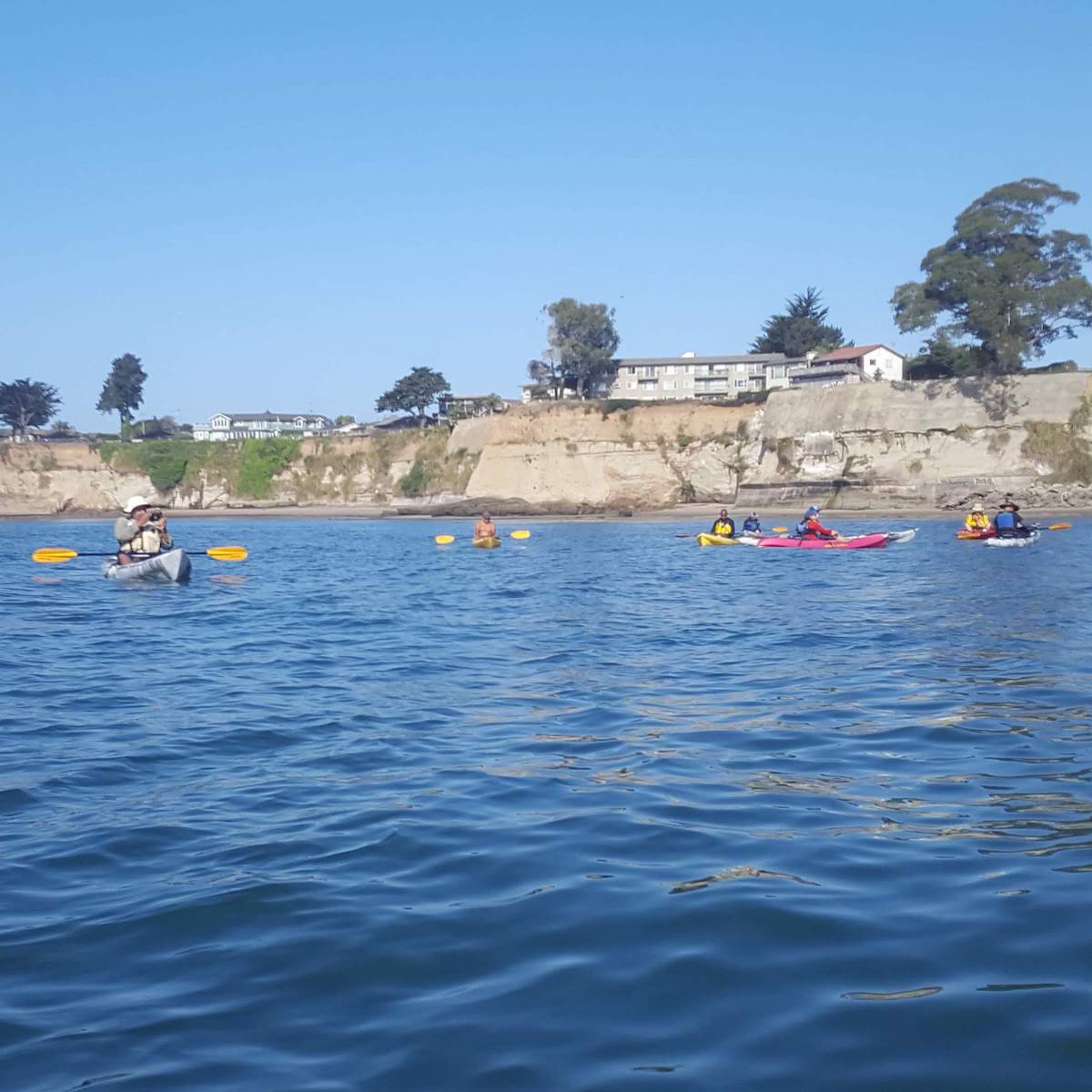 Opal Cliffs
John picked me up and seamlessly slid in along my right side. In light of my tenuous fitness, I took a fairly consevative pace on the initial 2-mile leg to the turn buoy. I settled into a steady groove and emptied my mind of everything except the sound of sloshing water and the vision of John's banana-yellow kayak every other stroke. I made the (surprisingly giant) turn buoy in 57 minutes, fairly close to my spitball goal pace of 2 mph.
After the turn buoy I enjoyed another half-hour of relatively high-quality swimming before reaching the limit of my fitness. I accepted this with equanimity, as it was inevitable. As my stroke gradually deteriorated, I focused instead on gratitude for the opportunity to swim a beautiful point-to-point 10K course in the wild blue Pacific.
Two hours into the swim, with the Santa Cruz waterfront in sight, the previously SoCal-style conditions morphed into wind and fog. Everyone's pace was slowed, and many were blown off course. A few years ago this might have annoyed me; but today it only enhanced my joy. "Woohoo, a real ocean swim!" The slow throb of shoulder fatigue drowned by the jubilant energy of the sea.
After seeming to hardly move for a long time, we reached the end of the Santa Cruz Municipal Wharf and rounded the corner toward Cowell's Beach. The wharf's resident sea lions barked encouragement as we passed. Emerging on the sand after nearly three-and-a-half hours, MBSA volunteers Robin, Lisa, Gretchen, and Angel greeted me with my parka and a wool blanket.
Big thanks to MBSA for a glorious swim, and to John C. for guiding me along the way!