Last weekend I drove 90 minutes for a 19-minute swim - which would be unusual for me nowadays, even for an open-water swim. But this was a pool swim! Heresy!
There were other good reasons for the trip, however. I met up with Rob D., as well as fellow SBCSA director Dave VM. Dave joined me for 30 lengths of freestyle, while Rob lap counted and shot some video with his GoPro. Later, we caught up on the latest OW/marathon swimming gossip over beer and burritos. Good times.
San Luis Obispo Swim Club occasionally puts on combined USA-S/USMS meets, and this was one such occasion. I had no interest in hanging out on a pool deck all day dodging 10-year olds… but they were offering a 1500 (LCM) as the last event of the day, and it was tempting. I could sleep in, show up early afternoon… get in, get out, go home.
When I showed up, the kids' meet was still in full swing and they were running only a single warm-up lane. Which led to scenes like this:
Soon enough the non-1500 portion of the meet concluded and most of the kids cleared out. There were four heats of age-group milers, followed by a final Masters heat with me and Dave VM.
It would be my first long-course 1500 since… wait for it… August 1997. Almost 15 years ago! As a Masters swimmer I've done the SCY 1650 (twice) and the SCM 1500 (once), but not the LCM version. So I was interested to see what I could do (albeit unshaved, untapered, etc.)
Rob brought his GoPro to film the proceedings. He attached it to the lap counter, resulting in some cool underwater & turn footage.
My time: 18:56.72. Average pace per 100m of 1:15.8. This was… okay. I wanted to be under 19, and I was (barely). My splits were reasonable:
1:12.2, 1:14.9, 1:15.3, 1:15.8, 1:16.0 = 6:14.1
1:16.3, 1:16.4, 1:16.3, 1:16.1, 1:16.3 = 6:21.4
1:16.0, 1:16.2, 1:16.9, 1:16.8, 1:15.3 = 6:21.2
For shits & giggles, I plotted these 100 splits against two other swims from earlier in my life.  The blue line shows last weekend's swim. The red line shows my first-ever 1500, just after I aged up as a 13-year old. The green line shows my last-ever 1500, as a 17-year old.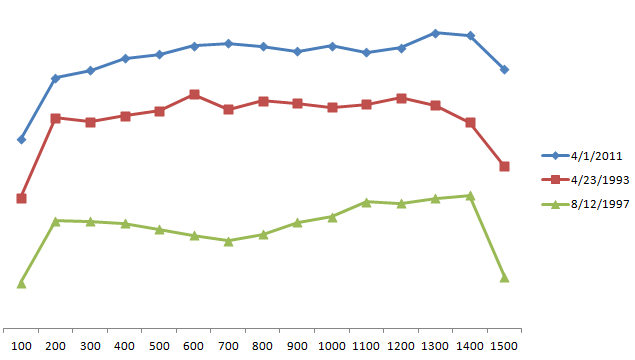 I won't be offering any heavy interpretation here, but what I'll say is: This is why I do open water.