Report: Cascade Lakes Swim Series (Elk Lake, OR)
Elk Lake is a 405-acre glacial lake in deep wilderness, yet only a 40-minute drive from Bend. And what a spectacular drive it is - through seemingly endless alpine forests and past numerous snow-capped peaks.
Central Oregon Masters Aquatics (COMA) has organized annual open-water swims at this venue for a number of years - at least 15, from what I heard - and in recent years it has expanded to a series of five swims over three days. They call it a "festival," and it is truly that: a grand, All-American celebration of nature and sport.
Along Cascade Lake National Scenic Byway between Bend and Elk Lake, the forest breaks occasionally to reveal vast meadows and emerald-green lakes.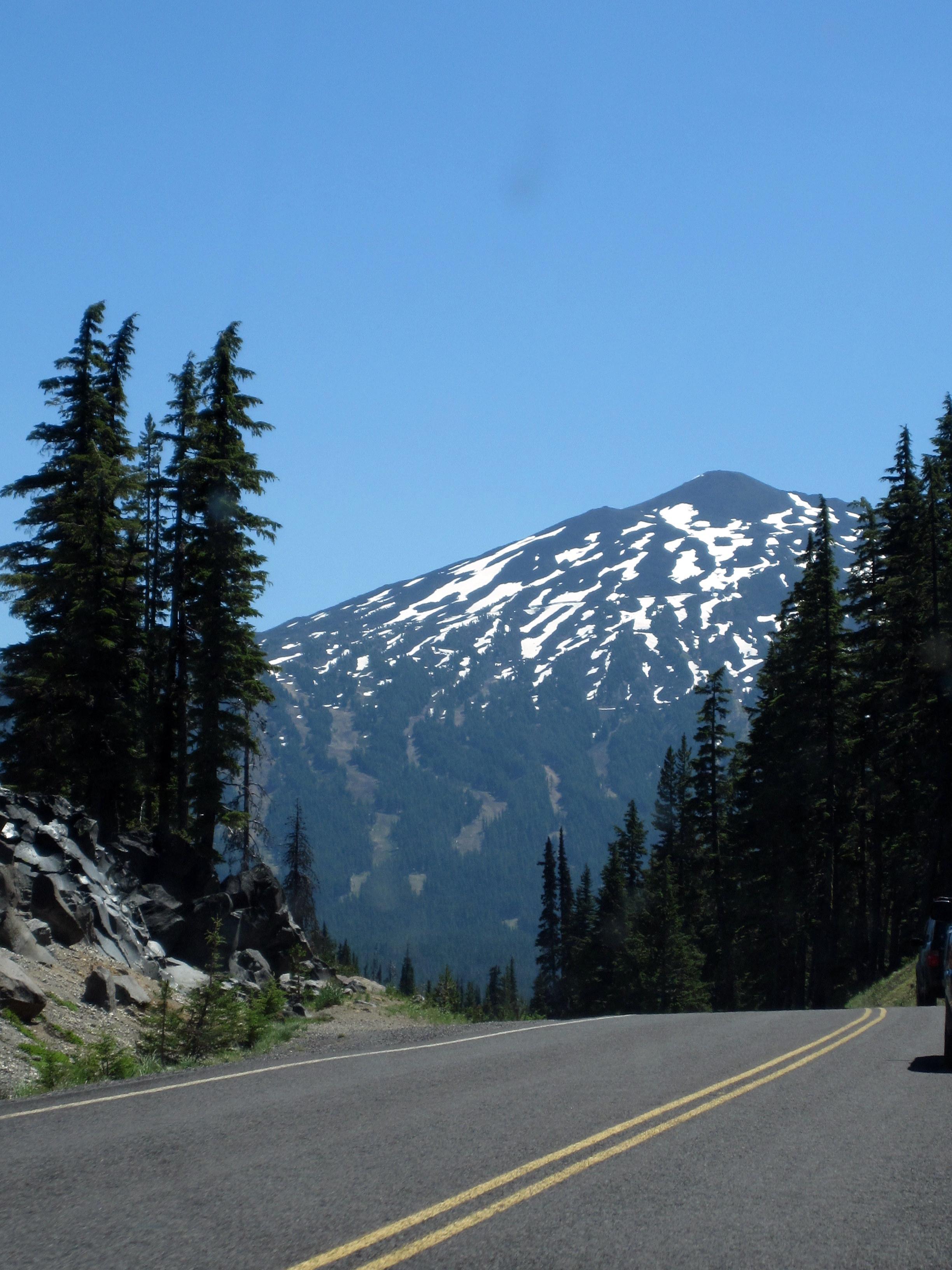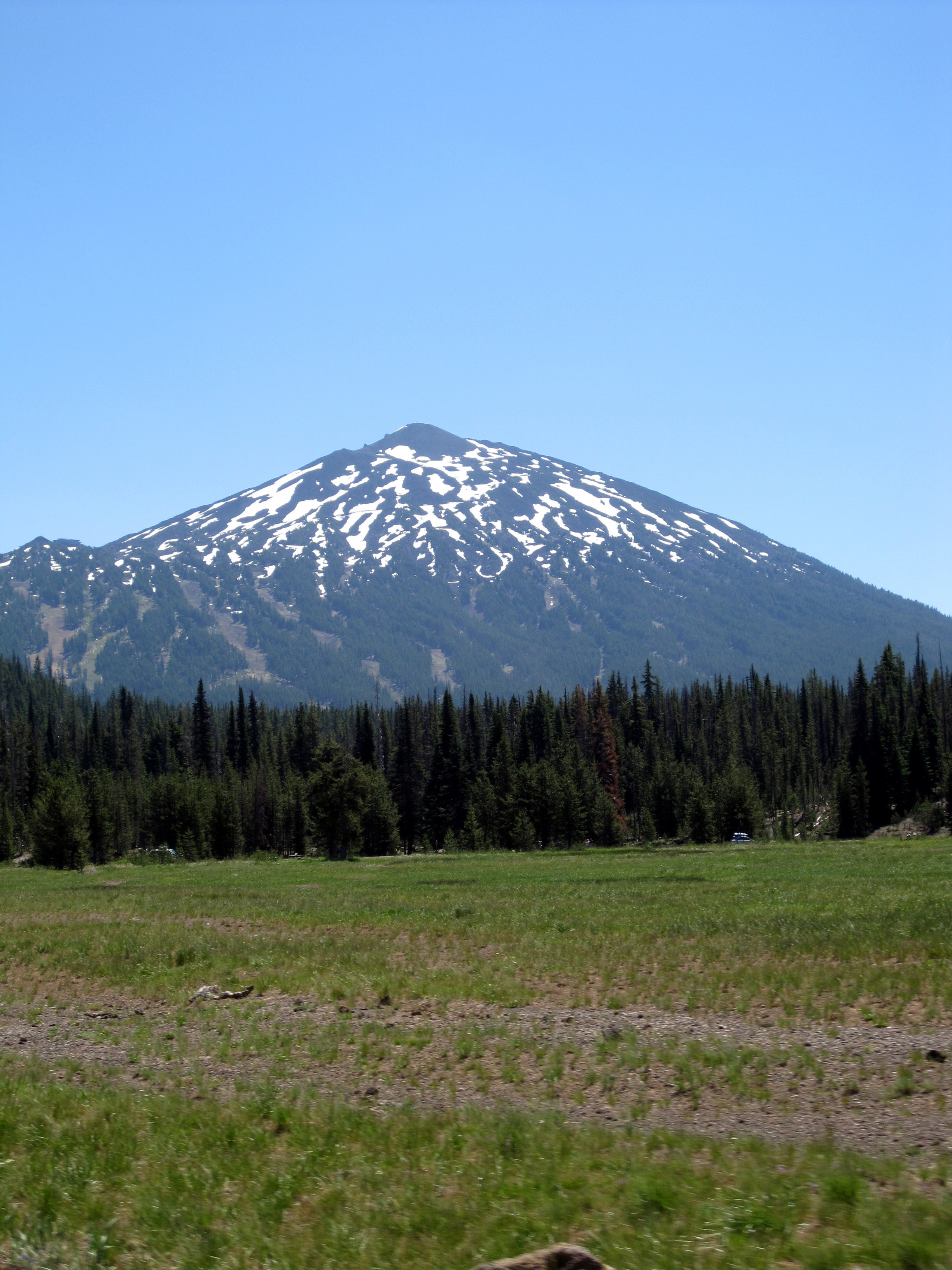 Elk Lake itself provides postcard-worthy views of South Sister, as seen here from the beach: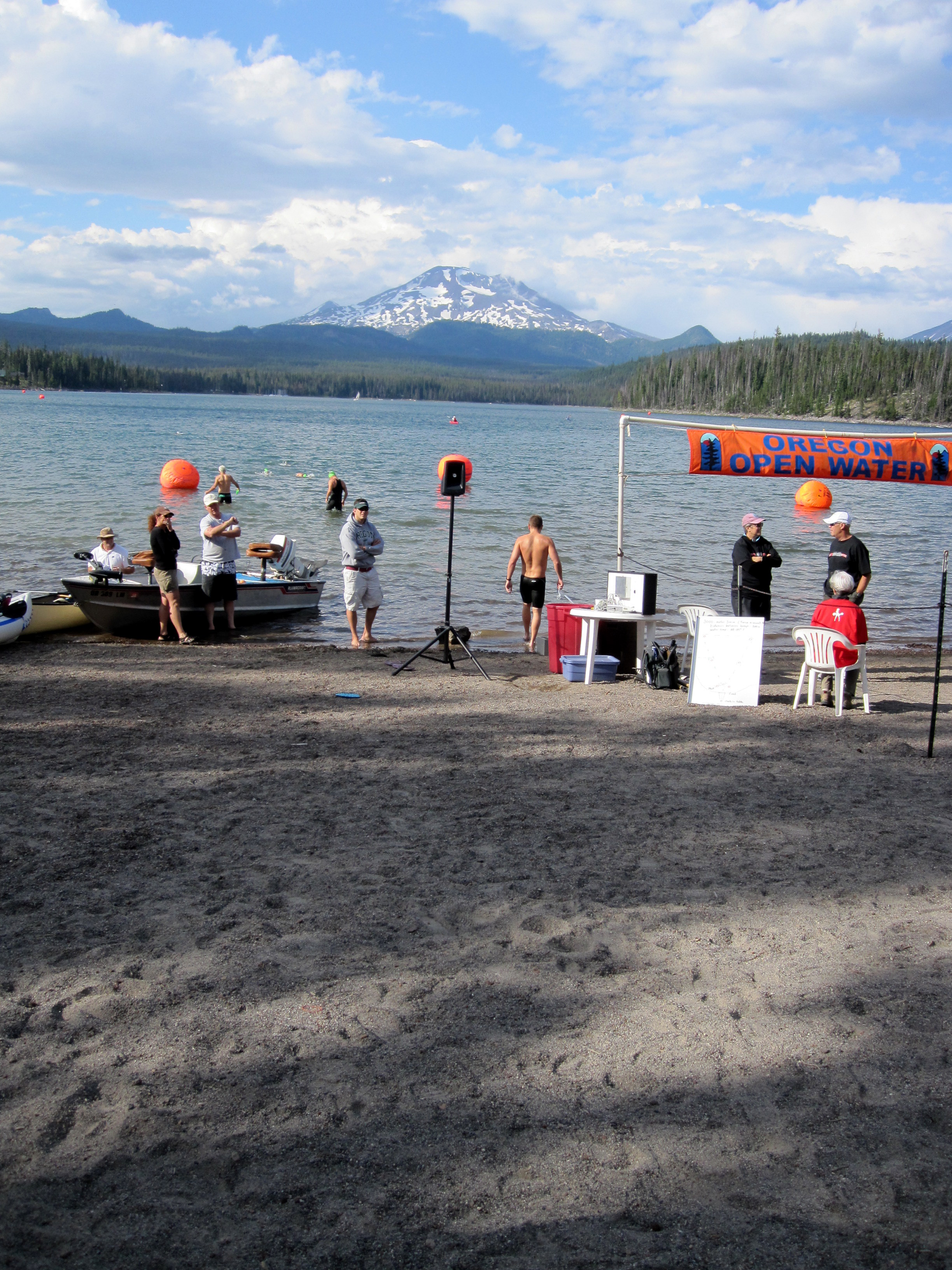 Friday, 5pm
The mountain air can get chilly once the sun goes down. It had been in the 80s in Bend that day, and I hadn't thought to pack anything more than shorts and a t-shirt. But at 4,900 feet elevation, with a persistent mountain breeze and the sun lower in the sky, it was uncomfortably cold. Many of those standing near me in the registration line had parkas and beanies. Thankfully the water was warmer than the air - the official measurement was 68F.
Race #1, 6pm: 3K
2 laps of a triangular 1,500m course. 600m out, 300m across, 600m back.
Well-marked course. Intermediate sighting buoys on the 600m lengths, i.e., no more than 300m between buoys.
I was in good position at halfway, right on the 2 leaders' feet. But then after rounding the buoy, they took an odd line toward the center of the course. I chose not to follow, thinking I had the straighter line. 600m later, I had actually lost ground.
I started getting winded around 2,000m, and probably slowed a bit. Got passed by some guy in a wetsuit.
Ended up 4th out of the water (including the wetsuit guy) at 40:34 (pace of 1:21 per 100m), 55 seconds behind the winner.
Race #2, Saturday 9:30am: 500m
Individual time trial, set off 20 seconds apart from a beach start, fastest to slowest according to 500y seed time. I was seeded 3rd.
"Straight line" out-and-back along a 250m cable with small buoys strung along at regular intervals. Scare quotes because it wasn't really a straight line - the wind had pushed the center of the cable ~10m inward.
My weakest swim. I made the mistake of going straight from my warm-up to the starting line without toweling off. It was still chilly this early in the morning (mid-50s I'd guess), and I was literally shivering by the time they set me off. Final time of 6:30.7, 6th overall and 28 seconds behind the winner.
Race #3, 11:45am: 1.5K
One loop of the previously described triangular course.
Didn't try anything tricky with my navigating this time around - just tried to stay on the feet in front of me. Which I succeeded in doing. Unfortunately, on the final sprint the three guys ahead of me presented a formidable wall I was unable to get around.
4th out of the water in 19:58 (pace of 1:19.9), 8 seconds behind the winner.
Felt strong all the way - perhaps I'm finally acclimating to the altitude? My feet-following strategy allowed me to conserve energy not only by drafting, but also by letting others navigate. I lifted my head fewer than 5 times in the first 600m.
Race #4, Sunday 8:45am: 5K
Beautiful morning. The wind, a persistent nuisance through the first two days, had finally died down, leaving the lake glassy and inviting.
"A diamond and two triangles," race director Bob Bruce repeated. For the 5K, we would start off toward the 600m buoy as in the 3K and 1.5K. But then, instead of turning and following the triangle, we would continue out into the lake for another 400m before reaching an apex and turning back toward the *other *600m buoy. After completing the "diamond" (2,000m), we would then do the original 1,500 "triangle" course twice, for a total of 5,000m.
Three of us - myself, a guy who had beaten me in all 3 previous races (we'll call him "B70 guy"), and another guy in a wetsuit (we'll call him "wetsuit guy") - almost immediately separated from the field. The pace was more aggressive than I anticipated, but I felt pretty good so I went along for the ride.
For the next 4,000+ meters, I followed B70 guy's feet. Water visibility was ~15 feet, which helped. Wetsuit guy came in and out of the picture - sometimes leading, sometimes following, sometimes off to the side.
What about navigation? Honestly, I didn't really care. After my experience in the 3K, I figured B70 guy's feet were "good enough," and my chances of gaining anything by finding a better line were offset by (a) the possibility that my line would actually be worse, and I'd lose him, (b) the energy conserved by not having to lift my head, and ( c) the energy conserved by drafting.
Finally, at 4,400m, I had my opening. Approaching the final turn buoy before heading back to the beach, I pulled up alongside B70 guy and found an inside line to the buoy. Once I rounded the buoy I had opened up a half-bodylength lead. Wetsuit guy started to make a surge and came up on my right; B70 guy was behind and on my left. I wasn't really paying attention to navigation at this point - I had the middle position, so I could see right away if anyone changed course.
Eventually I lifted my head and noticed we were way off course, heading toward the west shoreline rather than making the diagonal back to the beach. I made a quick move to the left, which had the effect of putting a quick bodylength between me and wetsuit guy (who had been on my right). Now both guys were out of my field of vision, and it was a drop-dead sprint to the finish. At the end of a 5K, that's a special kind of pain.
B70 guy managed to stay on my heels, though, and when my hands started to brush the sandy bottom (about 15m from the finish chute) I raised my body up and realized I wouldn't be walking into the finish. With my bionic (i.e., titanium & plastic) hip, I have very little in the way of land-based speed, so B70 guy gained on me quickly. Once I hit dry land, though, I did a quick hippity-hop and crossed first by a couple of steps, in a time of 1:06:14. One second ahead of B70 guy and 8 seconds ahead of wetsuit guy. Pace per 100m was 1:19.5 - faster than both my 3K and 1.5K - despite the wide path we took on the final lap.
Race #5, Sunday 11:45am: 1K
After the dramatic 5K, the final race of the weekend felt almost like an afterthought. For this race, they set us off in heats of 10, fastest to slowest according to the 500y seed time. From an in-water start, we would make our way along the west shoreline between irregularly placed buoys, before making a sharp right turn back toward the intermediate 300m sighting buoy from the previous races. From that point, it was a straight shot back to the beach. Once again, three of us separated from the field: myself, "B70 guy" from the 5K, and a 25-year old former D-1 college swimmer whose best times included a 4:25 500 free and 15:27 mile.
The young guy had a little too much speed in the end, and beat me by 7 seconds. Once again B70 guy and I found ourselves in a footrace, and once again I took him by a few steps. Final time of 13:53 - slowest pace of the weekend at 1:23.
A few final thoughts:
COMA really knows how to put on an open-water event! Even with 5 different races, each with its own course layout, the transitions were seamless, and everything ran on schedule.
The post-race buffets were spectacular. COMA provided by far the best food of any event I've attended this year.
The event had a wonderful community feel. Almost everyone was from Oregon, so for many, this was a weekend-long reunion of old friends. Many brought their families, and between the two Saturday races there were a couple short, fun races for kids.
Another nice touch: custom awards. Beautiful ceramic coasters for the series winners in each age group; hand-made ceramic mugs for the top overall male & female; and "Survivor" coffee mugs for anyone who completed all 5 races.
It was fun catching up with Dave Radcliff, 1956 Olympic swimmer and old friend of my parents:
---
The COMA Cascade Lakes Swims were a highlight of my 2010 open water season. It's tough to say what next summer will look like, but it would make a great annual tradition.
One last thing: A special thanks to my parents, who joined me from SoCal for the weekend. If there were awards for swimmers' "support crew," they would have certainly taken first prize.
Could I ever get tired of this view?
RESULTS here.